Hermann meets NBC Meet the Press Moderator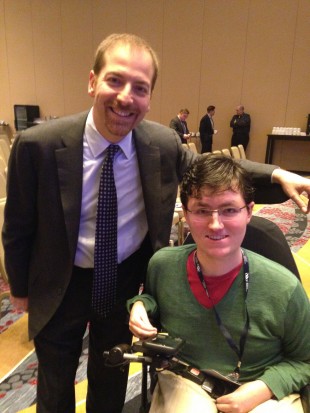 Washington DC — Will Hermann, Suffield DTC Member and political activist was recently in Washington DC and met with NBC's Meet the Press Moderator, Chuck Todd.
Hermann is an active member of the Suffield DTC and active in the Democratic Party locally and at the state level. Hermann writes his own blog which can be shared here. His recent article about Connecticut casinos was published in the CT News Junkie.
Here is a short excerpt:
Ever since Gov. Dannel P. Malloy punted an unfinished budget to the legislature later than the usual deadline, legislators have been searching for ways to raise revenue without explicitly raising taxes. 
So far, legislators have been looking at ways to counteract declining sin tax receipts as a way to balance the budget, which include the addition of new casinos and the legalization of keno. The term sin tax refers to tax revenue from alcohol and tobacco sales (and may soon include sugary drinks) and casino revenue sharing, which totaled more than $721 million last year.
The thought process behind most sin taxes is that increasing the price of goods and activities that most of society looks down on will discourage people from purchasing such goods and engaging in such activities and will give the government funding to help address the greater societal costs of such goods and activities. From the perspective of legislators, the added bonus of such taxes is the fact that some of the money, or in some cases all of it, can be used towards this state's general fund to help balance the budget. As we have seen in Connecticut, this added bonus can be quite useful when we face a large budget deficit.
For the complete article, please visit CT News Junkie.