Congamond Wastewater Study – informational meeting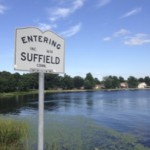 There will be an information meeting to present a recent wastewater study for the Congamond Lakes area in West Suffield. The Water Pollution Control Authority and consultants will present to town residents Wednesday, Sept. 25 at 7 p.m. at the Ebb's Corner Fire Station located at 3 Copper Hill Road, West Suffield.
This is an opportunity for local residents to get informed about this important study and ask questions.
To download the complete study, click here.