Nate Prusi – Police Commission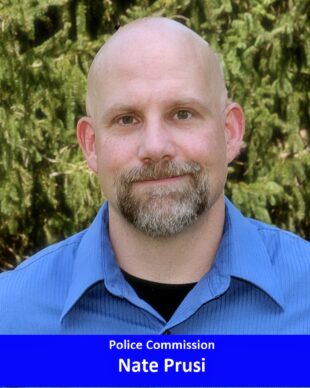 My name is Nathan Prusi and I am running for a position on the Police Commission for our Town. I am relatively new to Suffield having moved here in December of 2019 but have found what I consider to be my home and want to contribute positively to my new community.
A little bit about my history. I have grown up in CT for most of my life, and have lived in both rural and urban communities in CT. I am currently an Ethics and Compliance Investigator for Starbucks Coffee Company and have worked in Asset Protection and Loss Prevention for Starbucks, Abercrombie & Fitch, and Lord and Taylor. In these positions I have partnered closely with police departments throughout New York and New England in the realms of community engagement, crime prevention, crime detection, and prosecution.
I am a graduate Magna Cum Laude from Sacred Heart University with a Bachelor of Science in Criminal Justice. Shortly after graduation I joined the United States Marine Corps Reserve as an Infantry Assaultman. Within 2 years I was assigned as a Section Leader for the Assault Section, Weapons Platoon, Charlie Company 1/25. I served a rewarding six years with the Marines. I was activated in 2003 in support of Operation Iraqi Freedom and Operation Enduring Freedom. During my service was recognized in School of Infantry as the Honor Graduate from for my section, and during our deployment I was honored with a Letter of Commendation for leadership during our activation.
I am married to a wonderful woman Andrea Prusi and have 4 amazing children: Nathan, Sawyer, Dean and Leila. Since coming to our new home, I have become Cubmaster for Pack 266 and Assistant Scoutmaster in Troop 66.  I have been a long-standing supporter of the Veteran community and am active in The Mission Continues, the Travis Manion Foundation, Provetus, and was the co-founder of the New York Metro Chapter of the Starbucks Armed Forces Network.
As a police commissioner I intend to support our Police Department, Officers, and Community through helping to address the concerns raised in the Operational study through:
1)      Helping to provide community and department engagement through suggesting and helping to implement the following programs:
a.  "Coffee with a Cop" in order to help police and the community connect and engage with each other in a positive manner.
b.  A proactive Community Watch Program in partnership with the Suffield Police.
2)      Assisting with providing clarity in the mission of the Suffield Police and advocating for appropriate support and training to accomplish that mission.
3)       Helping to provide accountability and appropriate oversight.
I am excited to become a part of my new community, to help serve Suffield and its people. I humbly ask for the opportunity to do so, and for your vote in November.