Liz Warren – Board of Selectmen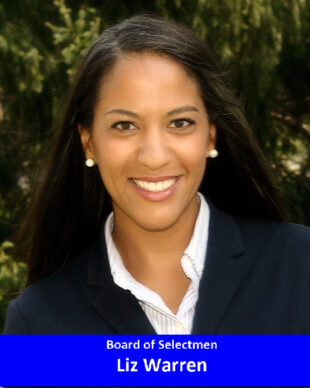 Liz Warren has been a resident of Suffield for the past 13 years. Prior to moving to town, she lived in a small rural area of Ohio, very similar in spirit to Suffield, for 20+ years where she hails from a line of family history rooted in public service. Her father served on the Board of Public Affairs, the Village Council and was Chairman of the Board of Education who ignited her passion for service. Initially, upon her family's arrival, she thought living in Suffield was only going to be temporary , however, Liz and her husband, Rick, fell in love with the community and its citizens and now fondly calls Suffield their home. Since her early years in Suffield, Liz has grown her family and is raising four boys who are active in the community and Suffield Public Schools. As a devoted and committed educator, and as a community member, Liz loves to engage and interact with residents and students. Her current work involves directing diversity, equity and inclusion initiatives at Suffield Academy and teaching a Leadership course. Liz is also a proud co-founder of ABAR Suffield.
Outside of her work, Liz is devoted to helping others. Whether through organizing community events on the town Green or an active fitness coach, Liz lives to serve. She has volunteered to coach a Farm League Baseball team for Suffield Little League, she has been a volunteer organizer of PTO school traditions, a former board member of Suffield Cooperative Preschool and an active member of the Suffield Country Club Pool. Through her work at Suffield Academy, Liz has partnered with several local business and organizations in order to engage her students in service-learning projects. She has collaborated with A. Ward Spaulding School, McAlister Middle School, Hilltop Farm, Jesse F. Smith Memorial Forest, Sunrise Park, Suffield Community Aid and Second Chance Shop.
With a Bachelor of Arts and a Masters in Science Management from Mount Vernon Nazarene University in Mount Vernon, Ohio, Liz has held several key leadership positions in both her collegiate and professional career. She is a person who commits to building relationships with others with hard work and dedication. One of Liz's life passions is to see equity served to all. This includes residents both new to Suffield and those who have generations of family history in Suffield. She will work to ensure that every person who considers Suffield "home" will feel safe, welcome and accepted in town.  Every person in Suffield deserves to be accepted and valued, may it be while visiting shops, business establishments, taking a walk through our beautiful roads, or simply hosting a bar-b-que in one's neighborhood. Liz's experience in the educational sector allowed her to gain exemplary listening skills. She believes everyone has a voice and has the right to be heard.
While on the Board of Selectmen, Liz will work to ensure each resident's concern is thoughtfully listened to and respectfully considered while making decisions for the town. Liz believes in living in harmony within the community. She believes in the value of getting to know individuals different from herself and looks forward to serving our community and residents.