Kacy Colston – Board of Finance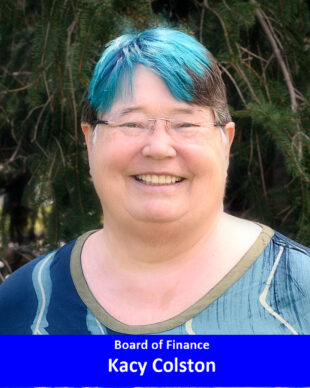 I love Suffield!  Tom and I built our West Suffield home in 1989. I retired in 2015 after 37 years at Cigna so that I would have more time to work as a volunteer in our town. I am currently serving as chair for the Suffield 350th Anniversary committee and executive VP of the Friends of the Farm at Hilltop. I also volunteer doing computer layout for The Suffield Observer every month.
I began my work life in 1977 as a computer programmer, analyzing how people did their work manually and developing computer-based systems to make their jobs faster and easier. One of my assignments involved a nation-wide rollout of minicomputers to field claims offices. Sitting side by side with claims analysts gave me an appreciation for how critical it is that computer applications are designed to make it quick and easy to handle customer service calls. The people designing business applications don't always understand how they will actually be used.
When IBM started making personal computers in 1981, I went to work in the information center at Cigna helping employees learn about PCs. When Cigna decided to install PCs in claims offices, I was asked to become a member of the "Cigna-link" project team. Initially I worked on designing and supporting the new PC systems, including running the help desk to get a better understanding of what problems people were encountering. After the kinks were worked out, we went on to replace the all the minicomputers in the field claims offices with Cigna-Link PCs.
Being the person from "the home office" working in the field offices, I learned how unrealistic assumptions can cause havoc during a computer system implementation. I decided that the next time Cigna replaced computer systems, I wanted to help plan the rollout. In 1995 I joined the Project Management Institute, a global professional organization for project managers and started their certification coursework. I received a Project Management Professional (PMP) certification in 2003.
My final 15 years at Cigna were as a project and eventually program manager. I did work on the team that planned and implemented the next version of "Cigna-Link" and then moved on to supporting mergers and acquisitions by evaluating information technology of acquired companies and getting them transitioned to common systems. My biggest project was the multi-million dollar relocation of a data center from Tennessee to Connecticut.
I maintain my PMP certification today because project and program management skills are key to getting work done in a nonprofit organization where most workers are volunteers rather than paid staff. Agreeing on objectives, clearly communicating them, and breaking the work down into manageable and measurable pieces seems to me to be the most effective way to get work done.
I graduated from Sonoma State University in California in 1977 with a degree in political science and a minor in sociology. I took a basic programming course to meet the math requirement, and that's how I ended up with a career in data processing. In 1984 I received a Master's in Information Management at the Hartford campus of Rensselaer Polytechnic Institute. I earned a Six Sigma green belt certification in process improvement in 2013. I completed a Whole Farm Planning certificate course in 2016. I continue to take project and program management training classes every year to maintain my PMP certification.
My work with the Suffield 350th anniversary committee will be wrapping up this October, and I am looking for a new challenge. Please vote for me for the Board of Finance this November!