Jack Henrie – Treasurer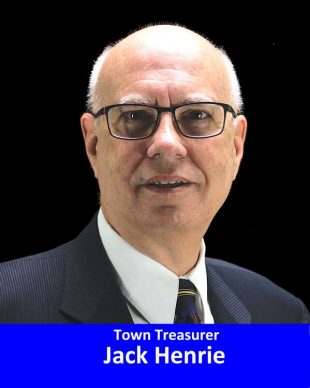 Jack is a Suffield-based small business owner of over 25 years with business experience in CT since 1979. He came to Suffield over 30 years ago with his wife, two children, and golden retriever. Both his children were educated in Suffield's public schools. His son Jonathan lives in Suffield, and his daughter Sharon is now a clinical psychologist with the Atlanta VA Medical Center. His wife Robin is a speech and language pathologist at Agawam HS.
Jack is a summa cum laude HS graduate and has a BA (English) and MBA (Accounting, Finance) from the University of Rochester. He is a CPA with audit or consulting experience with Amtrak, E&Y, KPMG, and Deloitte & Touche.
Among the functions of a Chief Financial Officer (CFO) is that of Treasurer. Jack has been the CFO of companies ranging from the second largest wholesale nursery in the Northeast to the fastest growing technology company in CT. Jack has had Treasurer responsibilities in over a dozen organizations and has coordinated over $100 million in tax-exempt financings.
Jack served on Suffield's Board of Finance for 10 years and represented the Board on the Board of Education and Retirement Commission. While Chair of the Board of Finance's Audit Committee, he presided over a transition of Suffield's independent accountants. Jack has served on Suffield's Ordinance Review Committee, has been Treasurer of the Suffield Democratic Town Committee, and is currently serving on Suffield's Economic Development Commission. In 2018, Jack ran for State Representative in our 61st House Assembly District.
As Suffield's Treasurer, Jack will be responsible for paying bills, receiving revenue, payroll, investments, and borrowings, while keeping the Town's records in accordance with Federal, State, and Town regulations. Jack will work closely with the Town's boards and commissions providing his financial reports, expertise, and support.