Brian Fry – Board of Education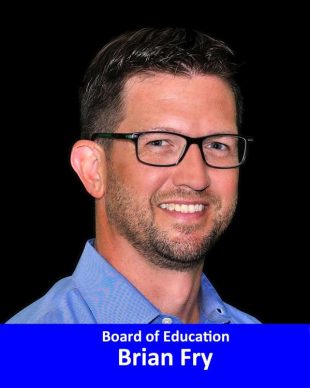 Suffield has a well-deserved reputation for exceptional public schools! As a community, we have the solemn responsibility to protect, teach, and advocate for our children.
My name is Brian Fry, and I am seeking reelection to the Suffield Board of Education to continue my work towards meeting the educational needs of every child in our district.
I moved my family to Suffield 10 years ago based largely on the reputation and strength of the schools. I believe in public education and I believe that Suffield is an exceptional town to raise a family. My wife Cheryl is the head of the nursing department in Somers, CT where she has dedicated her career to caring for the health and well-being of all of "her kids." Together we have 3 children. Avery just entered his first year of middle school, Christian is in the 4th grade, and Gabriel will enter kindergarten next year. The exceptional teachers and administrators in Suffield have been very supportive of my children and their education.
I was born and raised in Connecticut and graduated from Masuk High School in Monroe where I was a student member of the Board of Education. It was here that I first learned the importance of a properly managed and administered school district and came to realize that I would, one day, serve my community as a member of the Board of Education. I subsequently attended Springfield College where I earned a Bachelor of Science and Master of Science degree in Physician Assistant (PA) studies. After graduation I kept a hand in academia as a member of the adjunct faculty and helped train the next generation of physician assistants.
Over the past 21 years I have practiced as a PA in the emergency department and in orthopedic medicine/surgery. My busy orthopedic practice has offices in Enfield, Avon and Windsor where I care for all ages of patients and treat a wide range of orthopedic problems. Like my wife, I have made my life and career all about caring for others.
When I am reelected to the Board of Education I will continue to tirelessly and aggressively advocate for every child in our district. We know that each child is different and they grow and learn in different ways. Gone are the days of a "one size fits all" education. A modern education must address the unique needs of each student and provide them with the right tools, encouragement and guidance so that they can become their best self. Suffield students will graduate and enter institutes of higher education, the military, trade schools, the work force and adulthood. It is our critical task to help them find and hone their passions and skills so they can be well-rounded people and members of our society.
As a member of the Board of Education I am keenly aware of my responsibility to see that every tax-payer dollar is spent with care, thought and purpose. Education makes up a sizable majority of Suffield's annual budget and it is critical that those dollars be spent with every stake-holder in mind. A strong school system benefits everyone. It creates a sense of pride in community, it strengthens our property values, and it helps to attract and retain the most talented teachers and administrators.
While our school district has a strong foundation there is, of course, always room for improvement. In my opinion, our standardized tests scores and school rankings, especially compared to towns similar to ours, do not accurately reflect the true potential of our schools and students.
The Town of Suffield deserves a board that operates in an open and transparent manner, keeps their ears and minds open to the concerns of the community, and remains laser-focused on what is best for the student.
I look forward to continuing my service to the Town of Suffield and I humbly ask for your vote in the upcoming November election.
Respectfully,
Brian Fry