Angelo DiMauro – Police Commission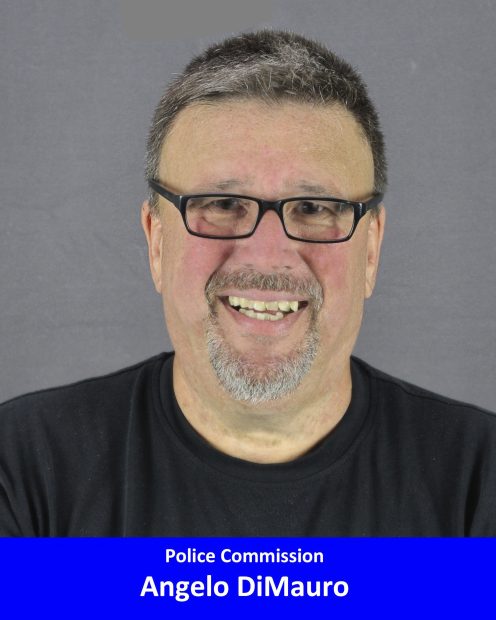 I have lived in the Town of Suffield for over thirty years now. My first job was picking tobacco on North Grand Street. Coming from Windsor Locks I would have never thought I'd be fortunate enough to live not only in Suffield but on the very street that introduced me to the town. North Grand Street.
My adult work life began at the Montgomery Company in Windsor Locks back in 1979. Working in an old factory mill was a wonderful experience, one I will never forget. While there had the opportunity to get to know so many wonderful people. In only a short time, I became the supervisor to 35 people. I worked at the Montgomery Company for eight years, until they closed. If they remained open, I would have stayed there for my entire career. Every day it was a pleasure to go to work.
While at the Montgomery Company, I opened a small appliance company in Broad Brook Connecticut. As this business grew, I moved it to Enfield Connecticut. I operated this store for several years before selling it. When I heard the devastating news that the Montgomery Company was going out of business I started another appliance company, Dependable Appliance in downtown Windsor Locks.
Dependable Appliance specialized in selling new and reconditioned GE appliances. This was a great opportunity for my family and me. As time went on, I merged this company into a trucking, large-scale waste management, and a remanufacturing company that would ship worldwide. My scrap business consisted of over 800 pieces a week and reached the entire state of Connecticut.
As business grew I opened 6 more appliance store locations and ran a very profitable scratch-and-dent operation for the General Electric Company. Later, I led the way to help with energy efficiency thorough the State by working with Connecticut Light and Power replacing inefficient refrigerators in apartment complexes with new, energy-efficient ones.
During this time, I got involved in the Suffield Sportsmen's Association where I ran the turkey shoots for 8 years. While here I introduced many new safety features as well as making it affordable for families to share in wholesome fun, learn Gun safety, and spend quality time together. Here I had the honor of being named Sportsmen of the Year an honor that means a lot to me. I was also instrumental in bringing the Sportsmen's Club and the Suffield Police Department together and working out a partnership so the officers could qualify their gun safety requirements without leaving Town.
My other volunteer work started with Loaves and Fishes, a soup kitchen in Enfield. I spent 8 years as a cook for our hungry brothers and sisters. After that I took over a soup kitchen in East Windsor and turned it into the highest-volume soup kitchen and food pantry for 5 consecutive years. Every year over 1.4 million pounds of food was distributed with no red tape. We thought out of the box and invented an easier way to help folks in need. It is still in operation today.
For 12 years I volunteered to manage the property and canteen at the Suffield Veterans of Foreign War Post. I was not able to do the wonderful things that have recently been accomplished, but I feel in my small way I was the Band-Aid that held the property together until the right man came along. Once a community loses a property like a VFW it's almost impossible to get it back. During this time, I met some amazing veterans. One of the true highlights of my life was being honored to be of service to them.
My Town work started when I was asked by a friend if I wanted a side job as the assistant animal control officer with the Suffield Police Department. It seemed to be an interesting opportunity, so I took it on. Working part-time at night I learned the ropes and served the community for about 5 years making $6 per call using my own vehicle.
Working at the Suffield Police Department gave me the chance to work with some of the finest men I have ever met. My experiences grew learning from such great leaders as Billy Kuras, Bill Taylor, and Walter Skowron. These men taught me the meaning of community policing, and how to look at each complaint from a different perspective. I learned so much from them and applied their method of helping our neighbors in our community. Writing infractions was not the answer. Learning to communicate and relay what was needed to accomplish a safe and permanent resolution for the town and the residents was the key. It was important that this was done in a safe and respectful manner. I felt that if I issued an infraction, it was my failure to communicate to the person making the offense clearly and concisely what was needed to be done to correct the issue at hand.
I wound up selling all my interest in the businesses I owned, and started working in a program for the Town of Suffield that was created by our DPW Director, and Bill Kuras. We brought inmates from the low-level correctional institutions in Enfield to the Town of Suffield. The inmates gained experience by working on certain projects. Initially working with all the Town departments, later focusing on the renovations that took place at McAllister Middle School. We spent 9 months working weekdays until that task was completed. All the while I continued to work as the Animal Control Officer for the Town.
The animal control division grew, and I eventually became the full-time ACO and continued working this position until I retired about 7 years ago. There isn't a day that goes by when I don't think of the wonderful experiences, I was lucky enough to have and the amazing people that I met.
When I saw that the Democratic Party was looking for someone to run for the Police Commission, I felt I could be of service. Working with the Police Department for 18 years I have witnessed many leadership changes and the effect it had on morale and the Officer's direction. I feel that I have an insight of what they need for support and backing from within their work environment.
I hope that I can have this opportunity to serve the folks of Suffield and share some of the wisdom that was taught to me by the men and women of honor I have had the privilege to work with and learn from.
Angelo Joseph DiMauro Jr.