Victor Roy – Water Pollution Control Authority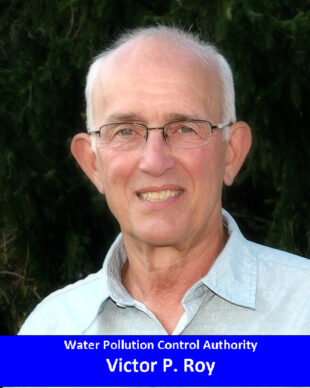 Experience and Qualifications: I am a retired engineer having worked as a Project Manager servicing nuclear power plants around the world. I have also been a Quality Manager at a unionized Westinghouse manufacturing facility. I have extensive experience interpreting and adhering to government regulations and also to union contracts. Municipal sewage treatment plants are also highly regulated similar to the environment I have worked in for my entire career. I have also worked in research and development of the waste water treatment department at Bird Machine while in college as part of my work study program. I worked at the Providence, R.I. sewage treatment plant testing new centrifuge designs.
Education: I have a Bachelor of Science degree in Mechanical Engineering Technology from Northeastern University in Boston, Massachusetts and a Masters of Manufacturing Management degree from Rensselaer at Hartford, Connecticut.
Family: My family has lived in Suffield for 43 years.
Community Involvement: I was an EMT and driver with the Suffield Volunteer Ambulance from 1991 to 1997.
I am running for the WPCA board because I believe in community involvement. I believe my technical and project management background qualifies me to be a productive member of the WPCA board. I am retired and not traveling constantly for work and therefore I would be actively participating in all WPCA board meetings.