Susan Mercik Davis – Board of Education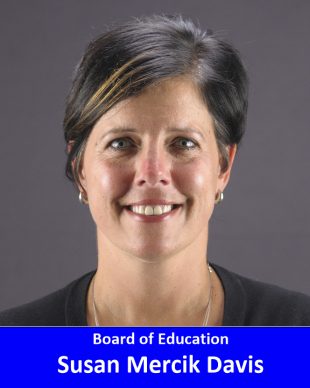 About Susan:
Experience and Qualifications:
I believe my nearly 20 years of teaching in higher education along with my leadership, advocacy and communication skills would be a strong asset to Suffield's Board of Education. I have taught at Mass General Institute of Health Professions, Northeastern University and American International College all in the Physical Therapy Programs. In academia, one must pursue answers and cultivate dialogue with many stakeholders so it is crucial to be up to date on research, data and best practices. I also must listen not only to my students, but to my colleagues and administrators in order to produce congenial settings even in the midst of disagreements and difficult dialogue. In addition to my work experience, I have been a strong advocate for special education students. I have advocated for appropriate services and accountability for this population both in Suffield Public Schools and by testifying at the state level in support of important legislation. In June, I completed a parent leadership course through the Parent Leadership Training Institute (PLTI), which is a nationally known program that fosters leadership, communication and advocacy skills in parent leaders.
Education: I have a bachelor of science degree in physical therapy from Boston University, a master of science degree in orthopedic physical therapy and a doctorate of physical therapy from MGH Institute of Health Professions. I have also completed one year towards my Doctorate of Education at American International College.
Family: I have lived in Suffield with my husband and three children (ages 15, 13 and 11 years old) for more than seven years.
Community Involvement: I serve as Co-Chair of the Foundation for Exceptional Children of Suffield (FECS), which is a non-profit that seeks to bring greater awareness, education and inclusion to Suffield's special needs community. I have been an active participant and volunteer in many PTO events and fundraisers within Suffield Public Schools. I served on Melissa Mack's First Selectman Election Committee.
Why Susan is running for BOE:
I have actively attended Suffield Board of Education meetings consistently over the past four years.  While I believe schools in Suffield are fundamentally strong with wonderful teachers and administrators, I haven't seen true accountability and transparency in this district on many levels. Briefly, our state standardized test scores are significantly lower than other similar school districts; special education (SPED) is struggling to provide appropriate, cost effective services to our most needy students; SPED outplacement costs have escalated to staggering numbers in the past two years; and parental engagement is not utilized effectively within the district. I want to bring positive energy to the Board; participate in healthy, transparent discussion; and be a part of engaging a community that eagerly wants to be involved in their children's education.
Once elected, I plan to:
Advocate for improved communication and transparency. I would like to push for BOE meetings to be live streamed and for greater depth of minutes of all Board meetings and subcommittees. I will also encourage greater depth and breadth of discussions during Board meetings to allow for a better understanding of how the board comes to decisions.
Advocate for greater involvement of the community, especially within the parents of school age children, BOE, administrators and teachers. It is imperative to engage all stakeholders in dialogue, respect differing opinions and develop strategies to work towards appropriate solutions and programming for all students.
Advocate for greater transparency of financial spending and rationales for those expenses, such as consultants, special education costs, special education outplacements, and programming.
Call for evidence-based decision making that is founded on reliable and appropriate data so that best practices can be assured when making decisions on programming, educational leadership and fiscal spending.
Thank you in advance for your support!