Roger Ives – Water Pollution Control Authority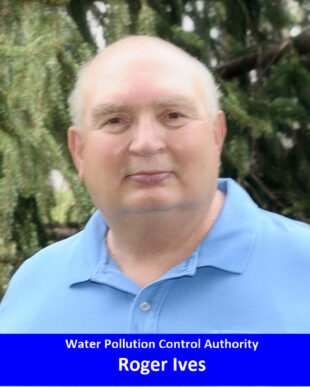 Family has lived in Suffield since 1956.
Graduated from Suffield High School, Class of 1970.
Graduated from the University of Connecticut 1975.
Board member of the Friends of the Farm at Hilltop (FOFAH).
Member of the Suffield Democratic Town Committee.
Vice Chair/Treasurer of the Suffield Water Pollution Control Authority.
I am the longest standing member on the WPCA Commission. There has been a 100% turnover in my time on the WPCA Commission. The current WPCA Commission includes three members who have backgrounds in wastewater management and another member who is a chemist.
I believe the WPCA is better run today than at any time in the past. The WPCA operations has strong leadership from the superintendent and chief operator and a very capable business administrator. All the operators who work at the WPCA are certified and continue to update their training.
There is an emphasis for proactive maintenance to ensure the plant and collection system is at maximum efficiency. There is a ten-year capital improvement plan in place to update the infrastructure of the WPCA in the present and future.
The Charter Revision Commission (CRC) has proposed to give authority over the WPCA to the first selectperson and the board of selectman. The WPCA is a unique as a part of the town of Suffield. It has its own revenue and budget which is overseen by the WPCA Commission. The WPCA is fiscally sound and well managed.
The CRC's proposal for the WPCA is a solution in search of a problem.
I urge the voters of Suffield to vote NO on the CRC's proposal to give authority to the First Selectperson and the Board of Selectmen over the WPCA.