John Mrosz – Planning and Zoning Alternate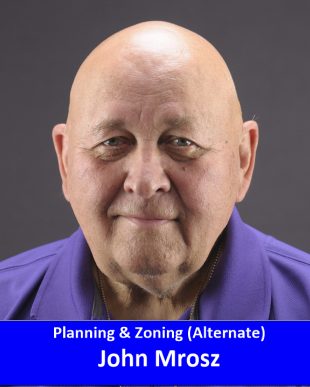 I was born in January 1943 and raised in West Suffield.  I grew up in a single parent family.  In my junior high school days, a teacher used to fondly state that Suffield had more cows than people.  I graduated from Suffield High School and joined the US Army.  I spent 3 years on active duty, serving both stateside and overseas.
In 1965, not long after my return, I married a girl from Enfield and had 2 daughters.
In 1967, I joined the Enfield Pollice Department ending in 1970.  I then began a 43 year career driving tractor-trailer.  I purchased my own truck and became self-employed in 1980.
In 2002, my mother passed and I returned to live in my boyhood home back in West Suffield.
I have a strong sense of giving back to others.  I served as a volunteer driver for the Disabled American Veterans (DAV) Transportation Network for 8 years before my appointment to head the Transportation Network out of the West Haven VA Hospital.  Additionally, I served as the state Commander of the DAV from 2015 – 2016.
It has always been my wish to get involved in the community proactively.  I am grateful that the DTC has endorsed me for the position of Planning and Zoning Alternate.