Jack Quinn – Police Commission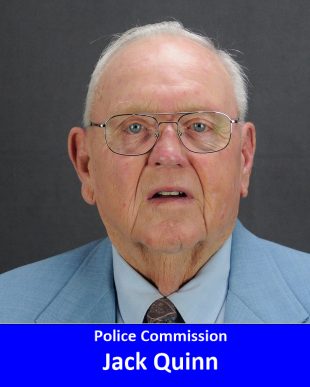 Suffield Resident 57 years
            Retired, Management Analyst  Ct DOT 37 years
Board of Selectmen  2yrs
Police Commission member 12 years
Heritage Committee  VC  15 years
Suffield Town  Constable
Suffield's geographic size is a challenge as the Police Department endeavors to balance fiscal constraint and staffing levels while providing a quality of service to assure that Suffield residents and businesses are comfortable knowing the Department can respond to accidents, breakins, Medical emergencies and  community needs.
During my 12 years on the Commission  we continually maintained dialog with the Chief, Department administrators, Selectmen and Board of Finance to attain a level of staffing and equipment to serve the town.
As a Commissioner I would  draw  on my 12 years of past experience, as  Chairman and Vice Chairman of the Commission.